Learn to Speak™ French Audio Course
Your Price:
$29.99
Add to Cart
Buy With Confidence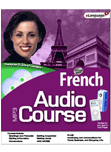 $29.99
Learn to Speak™
French: Audio Course
Learn French on the Go!
You can now learn French on the go with our Learn to Speak™ French MP3 Audio course.
As you probably know, the Learn to Speak software has been helping millions of people world-wide learn a foreign language using the software. We now have a full audio course available for learning on the go. On your commute, in your car, or wherever you can take your iPod or MP3 player we have you covered. The Learn to Speak French Audio course is fast and effective. It is guaranteed to get you speaking French quickly!


Course includes:
Greetings and Farewells
Getting Information
Introductions
Getting Acquainted
Making Friends
PLUS vocabulary and conversations for Travel, Business, and Everyday Life.
The Learn to Speak™ French Audio Course also comes with a 244 Page Reference book fully indexed as a PDF. Complete with grammar exercises and glossary, our Audio Course is the perfect complement to Learn to Speak™ French Deluxe.


System Requirements
Windows® 98SE, Me, 2000, XP, Windows Vista, Windows 7.
64 MB RAM
CD-ROM drive and mouse
Internet access optional

Microsoft® Windows™ is a registered trademark of Microsoft Corporation.
Testimonial
I Love This!

"I love this. After the pretests it started me off with things that beginners should know when speaking. It gets you speaking right away. The workbook is good, too. They have an audio cd that I've been listening to while cleaning. So you get to learn to listen read and talk first. And then you learn how to write. I've been messing with this thing everyday. I love it!!!"
– Z. Robinson