Passport to 35 Languages

Your Price:
$19.99
Add to Cart
Buy With Confidence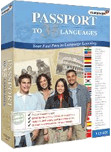 $19.99
Passport to
35 Languages
Award-Winning Language Software...
That's Affordable!

The Quick and Easy Way to Learn a Language
Learning a new language has never been easier! Passport to 35 Languages incorporates an easy See it/Hear it learning technique and extra interactive activities that make learning the basics of any new language exciting and fun.
You'll quickly progress towards both oral and written comprehension in any of the 35 languages you choose, all included for just $19.99.


Select Features
Learn 35 different languages:
Learn to speak Danish, Greek, Hebrew, Japanese, Norwegian, Polish, Russian, Dutch, Czech, Chinese, Italian, Swedish and more!


See it/Hear it technique:
This proven technique will teach you key words FAST. Listen to and mimic native speakers as you learn grammar, vocabulary, and conversational skills.


Learn language writing and speaking skills:
Quickly progress toward both oral and written comprehension.


Interactive activities:
Go at your own pace with interactive activities that correspond to your learning level.


Explore new cultures:
Multimedia slide shows let you explore and experience the cultures of the languages you learn.


Learn vocabulary:
The printable word/phrase lists helps you study and learn.


Record and play back capability:
Learn new words, then say them into your microphone. The program then will play back your own voice, so you can see how you sound and compare it to native speakers!


How Does Passport to 35 Languages Work?
You simply select your native language (supports English, French, German, Spanish, Italian, Portuguese and Dutch), and then select the language you want to learn.
Compare your pronunciation to that of native speakers and track your progress with advanced speech recognition technology. Whether you're planning a vacation, traveling for work, or just brushing up your skills, this comprehensive language study solution is sure to get you speaking the language of your choice quickly.
Learn to Speak:


Learn about cultures around the world.
Learn More