Learn to Speak™ English Deluxe

Your Price:
$49.95
Add to Cart
Buy With Confidence

Select Features
Pre-assessment testing.

Unique context-based learning method for quicker learning.

Speech recognition to perfect your pronunciation.

Over 40 real-life scenarios.

Voice recording and playback.

Talking dictionary.

Interactive games.

Cultural movies.

Custom lesson planning.

3 ways to learn: At your computer, in the car, or on the go.
User Reviews
"I Use This Program with My ESL Students"
"I use this program with my ESL students because the program has a speech recognition meter that measures how close you are to a native speaker's voice…Besides this very great tool there are stimulated conversations that you interact in. A talking dictionary, progress tracking, grammar exercises and there is a PDA dictionary."
- A. E. Han
"This is a Very Professional Tool to Improve Your Language Skills"
"This is a very professional tool to improve your language skills. I love to use the voice recognition feature and the accent assessment. It really helps you to speak clearly. Lessons are very well designed and it covers everything: pronunciation, grammar, reading, listening, vocabulary etc.. It's an excellent tool."
- Fernando Casas Cruz
"This Software Emphasizes Pronunciation"

"This software emphasizes pronunciation and will also teach you all basics including grammar, conversation, and reading. What this program is really good about is speaking practice; examples are abundant, speech recognition is good in comparison to other products, you can have conversations with your computer in various ways, and it's fun".
- S. Matsumoto
"This is Great"
"I had never found a good learning software for languages but this is great. It is very friendly, very exciting, not boring, takes you through different drills while you are learning and gives you a lot of grammar aids. I truly recommend this".
- M. Neff
"You Can Setup Multiple Users"
"I do like the setup of the software - you can setup multiple users on the software if more than one family member wants to use it and it keeps up with your progress. There's a pretest to determine where you should start. The speak recognition technology has worked fine so far. Your pronunciation is rated in relation to native speakers. You can learn the language for Everyday, Business or Travel use".
- Anonymous
Testimonial:
Amazing, Amazing, Amazing

"I cannot stop raving about this program. This is my dream program, and I am a language teacher, so I know what to look for: audio for virtually every word/phrase/conversation, progressive lessons, exercises, videos, etc. etc. It is logically arranged, and covers absolutely every basic topic imaginable. You will certainly not be sorry if you purchase this and dedicate yourself to it."
– S. Gately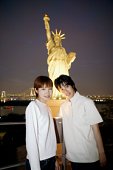 Learn more about English language and culture
Learn More
Learn to Speak: