Learn to Speak™ English Deluxe

Your Price:
$49.95
Add to Cart
Buy With Confidence

Select Features
Pre-assessment testing.

Unique context-based learning method for quicker learning.

Speech recognition to perfect your pronunciation.

Over 40 real-life scenarios.

Voice recording and playback.

Talking dictionary.

Interactive games.

Cultural movies.

Custom lesson planning.

3 ways to learn: At your computer, in the car, or on the go.
5 Reasons to Choose Learn to Speak English
Clearly, most people would rather spend money on plane tickets and souvenirs than on language software. Also, spending hundreds of dollars will not miraculously teach you a foreign language!
However, being priced much lower than other major language learning software, is not an argument in itself why you should choose eLanguage Learn to Speak English. Here are a few other reasons:


Developed by language learning experts
Learn to Speak English was designed by University language experts, and tested by thousands of students over many years. The goal was to get students to communicate in their new language as quickly as possible, while also getting a solid structural foundation in vocabulary, grammar and pronunciation. All of this in a playful, flexible and engaging way.


Successful history of language learning software
Learn to Speak language software has a long history of successful language-learning - Over 4 million copies have been sold since 1991. Why? Because Learn to Speak gives you more flexible and comprehensive language learning than the average language program.


Unique Flexible Immersion System
With Learn to Speak English, you'll get a language experience that is similar to living in a foreign country and communicating with native speakers. Choose to learn just through simulated conversations, or follow a series of carefully structured lessons to learn vocabulary and pronunciation. Perfect your accent with the help of speech recognition.


Most comprehensive language learning program
Learn to Speak gives you more lessons, more immersive conversations, and more additional online and offline resources than other major language learning programs – even those that cost five times as much.


Learn for your own needs at your own pace
Follow a carefully designed lesson plan or create your own based on the skills or subjects you want to learn. Use customized lesson plans such as travel, business, shopping, or everyday life. Even take your software on-the-go: in your car, or on your iPod/mp3 player.
Testimonial:
Amazing, Amazing, Amazing

"I cannot stop raving about this program. This is my dream program, and I am a language teacher, so I know what to look for: audio for virtually every word/phrase/conversation, progressive lessons, exercises, videos, etc. etc. It is logically arranged, and covers absolutely every basic topic imaginable. You will certainly not be sorry if you purchase this and dedicate yourself to it."
– S. Gately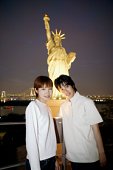 Learn more about English language and culture
Learn More
Learn to Speak: