Learn to Speak™ French Deluxe

Your Price:
$49.95
Add to Cart
Buy With Confidence

Select Features
Pre-assessment testing.

Unique context-based learning method for quicker learning.

Speech recognition to perfect your pronunciation.

Over 40 real-life scenarios.

Voice recording and playback.

Talking dictionary.

Interactive games.

Cultural movies.

Custom lesson planning.

3 ways to learn: At your computer, in the car, or on the go.
Also Consider:
French Audio Course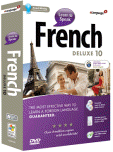 $49.95
Learn to Speak™
French Deluxe
Award-Winning French Language Software...That's Affordable!
System Requirements

Operating System: Windows 2000, XP, Vista, Windows 7
RAM: 128MB of RAM
Hard-Disk Space: 375MB of available hard-disk space
Monitor/Display: SVGA graphics
DVD-ROM: DVD-RM required for running the software
Sound: Windows-compliant sound card
Additional Equipment: Windows-compatible mouse or pointing device. Microphone for speech recognition.
Optional Equipment: Audio CD player, PDA, and Internet access for some features.
Testimonials:
I Love This!
"I love this. After the pretests it started me off with things that beginners should know when speaking. It gets you speaking right away. The workbook is good, too. They have an audio cd that I've been listening to while cleaning. So you get to learn to listen read and talk first. And then you learn how to write. I've been messing with this thing everyday. I love it!!!"
– Z. Robinson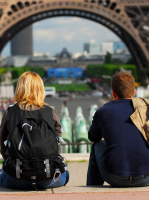 Learn more about French language and culture
Learn More
Learn to Speak: