Learn to Speak™ French Deluxe

Your Price:
$49.95
Add to Cart
Buy With Confidence

Select Features
Pre-assessment testing.

Unique context-based learning method for quicker learning.

Speech recognition to perfect your pronunciation.

Over 40 real-life scenarios.

Voice recording and playback.

Talking dictionary.

Interactive games.

Cultural movies.

Custom lesson planning.

3 ways to learn: At your computer, in the car, or on the go.
Also Consider:
French Audio Course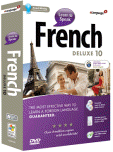 $49.95
Learn to Speak™
French Deluxe
Award-Winning French Language Software...That's Affordable!
Learn to Speak French User Reviews
"Well Worth the Money"

"The best way to learn a language is to use it. this cd system teaches you phases, then has you use them as it guides you, and records how close you get to sounding like a native. It also shows you how to conjugate, but you don't mind because it's things you've already said. It also lets you work at your own pace. Well worth the money. 'Au revoir!'"
- Andre La Plume

"Awesome for Learning French!"
"This software is awesome for learning French! First you start off learning the alphabet and learning vowels, etc., then you move onto Basic Phrases, Beginner I, Beginner II, and then Intermediate (Comprehensive Courses). A reference book comes with the package along with 5 CDs…great software product overall."
- Software User
"I Truly Recommend This"
"I had never found a good learning software for languages but this is great. It is very friendly, very exciting, not boring, takes you through different drills while you are learning and gives you a lot of grammar aids. I am fascinated with this piece of art. I truly recommend this. I am getting the Spanish for my hubby and I will continue with French, all by the same company."
- Anonymous
"An Interesting & Fun Way That Keeps Your Attention"
My wife and I are trying to learn French fast and this program is making that happen. It is done in an interesting and fun way that keeps your attention. It does not waste a lot of time boring you with details, but gets into conversations fast.
- P. Prelle
"It Gets You Speaking Right Away"
I love this. After the pretests it started me off with things that beginners should know when speaking. It gets you speaking right away. The workbook is good, too. They have an audio cd that I've been listening to while cleaning. So you get to learn to listen read and talk first. And then you learn how to write. I've been messing with this thing everyday. I love it!!!
- Z. Robinson

"I'm Engaged to a Frenchman"
"I have had this cd-rom for approximately 4 months now and I am coming close to being very fluent 'en francais'. It offers 3 complete courses, boasting vocabulary builders, lessons in grammar and verb conjugation, games to reinforce what you have learned, and you can also have conversations with virtual characters so that you can practice speaking.
I am engaged to a Frenchman and I just keep surprising him with how much I have learned. I go to France frequently, and this has made a huge difference in my linguistic skills. Future Francophiles (persons who love French language and culture), Good luck."
- C. Estelle

Testimonials:
I Love This!
"I love this. After the pretests it started me off with things that beginners should know when speaking. It gets you speaking right away. The workbook is good, too. They have an audio cd that I've been listening to while cleaning. So you get to learn to listen read and talk first. And then you learn how to write. I've been messing with this thing everyday. I love it!!!"
– Z. Robinson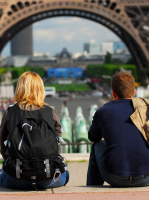 Learn more about French language and culture
Learn More
Learn to Speak: